Zachary Levi teases 'Shazam! Fury of the Gods, 'Discussions DC and Marvel Film Differences, Similarities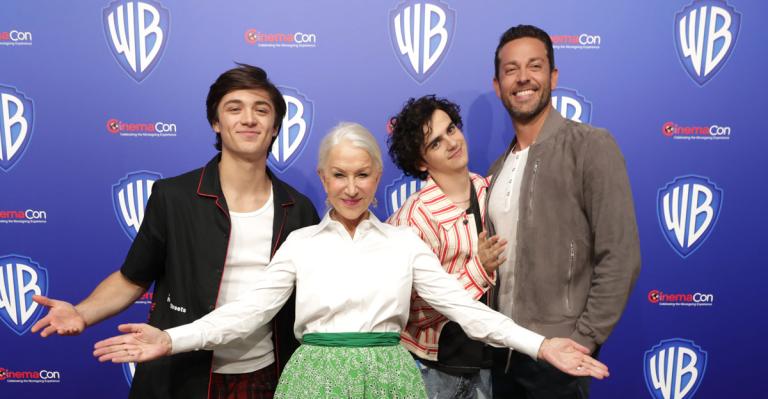 In her new book "Radical Love," "Shazam!" Star Zachary Levi reveals his mental health struggles, recovery and healing through forgiveness and faith. Part self-help and part memoir, the book also provides some backstory to his starring role in the 2019 hit superhero film (spoiler alert: he originally turned down the audition).
After the success of the David F. Sandberg film, the Shazam family will return on December 21 for "Shazam! Fury of the Gods" starring Levi with Asher Angel, Jack Dylan Grazer, Djimon Hounsou, Rachel Zegler, Helen Mirren and Lucy Liu. In this exclusive interview with Reel Faith's DeWayne Hamby, Levi teases what fans can expect when lightning strikes twice, the "blessing" of getting the role, and the similarities between "Shazam" and the Marvel movies.
Are there any nuggets you can share on "Fury of the Gods"?
No way! (laughs) Well, I mean, it's all secret for a reason. And finally, listen, I'm a firm believer in not messing things up. And I am to the extent that I will say that I am very proud of it. I was really proud of the first one and I really think we made a really lovely movie out of it. And now we had more time and more budget, and we're established characters in our own world. Other than that, and you know, Helen Mirren and Lucy Liu coming in as villains, I mean, man, that's really good. Everyone at Warner Brothers is very excited about this. Everyone in DC is excited about it, so excited we were supposed to come out next June and now we're a Christmas movie this year! So I think that's all it says, everyone is very excited about the possibility of this happening. I think the only thing we have to worry about is that we're going to fight "Avatar". So as long as we can take out the blue Na'vi, we'll be in style, I think.
It's still a pretty fun movie, right? Some of these franchises kind of start out having fun and then they raise the stakes. I'm sure the stakes are high, but you still have the humor and, and all that.
Oh yeah. I mean, that's the pedigree. It's part of our DNA, you know, "Shazam!" is a one-part action movie, like other superhero movies, but it's also part heart and part humor. So if you take away any of those three things, we're not really "Shazam!" more. It is not for me that God saw fit to bless me with this role of this child who could not grow up, a male child, but who loves who has a heart and a sense of humor. I mean, that's what I've done in almost all of my roles, and I love doing it. He separates him from the rest of the pack. You know, we're definitely different within the DC Universe. I think there might be some similarity within the Marvel Universe with certain tones of these films. But I'm so grateful. It's such a big role, and I think this movie is going to be something that people will really enjoy.
Now. I'm a die-hard DC fan. So I never thought they skipped a beat. But most people credit DC's winning streak with really starting with "Shazam!". I'm sure you know that.
Well, maybe in a modern part of that, but like, DC was kicking Marvel's ass a long time ago. I mean, "Superman" was the first, Christopher Reeve, Richard Donner "Superman." This is where it all began. Then Tim Burton and Michael Keaton, then you get into Christopher Nolan's "Batman." I think some have tried to figure out what "What is the DC world?" I think that was largely a response to Marvel building their larger universe, and "How do we do that?" There are starts and stops in there. But I will say, in modern DC titles, we've certainly become the funniest and the most irreverent and sort of, very different from 'Deadpool', but also kind of like 'Deadpool of DC' in that we we're in-universe, but we can comment on the universe where a lot of other movies don't. They can't do that. They are more serious, you know. I am grateful. I'm grateful that we can be that.
"Shazam! Fury of the Gods," starring Zachary Levi, will be released December 21 from Warner Brothers. "Radical Love" is available now from Harper Horizon.