The Iconic Twister Movie Scene That Was An Afterthought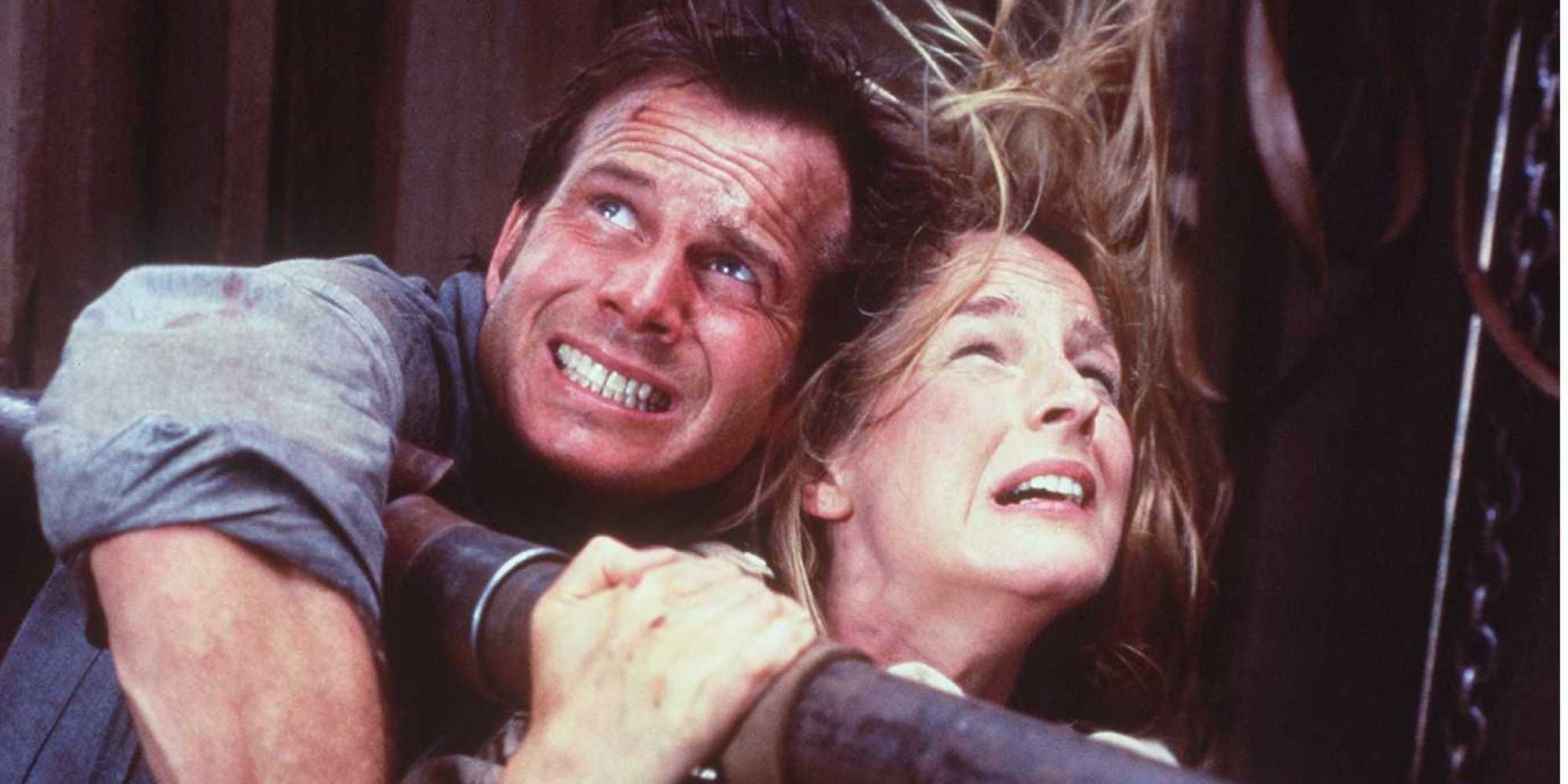 Twister was a huge box office hit of 1996, however, there is an iconic scene in the film that the director says was not in the script.
The most iconic moment from the 1996 blockbuster Tornado was apparently an afterthought, according to his manager. After a bunch of storm chasers, the film has grossed over $495 million at the worldwide box office. It stars Bill Paxton, Helen Hunt, Cary Elwes, Alan Ruck, Todd Field, Jeremy Davies and Phillip Seymour Hoffman as storm chasers, and Jami Gertz as Paxton's fiancee, who finds herself in a love triangle with him and the character of Hunt. The film retained its popularity in the years following its release, and at one point Hunt launched a Tornado sequel focusing on more diverse storm chasers she would direct, but the project never took off.
Tornado was directed by Dutch cinematographer Jan De Bont, whose work as a cinematographer helped shape the look of some of the most memorable films of the 80s and 90s, including die hard, The Hunt for Red October, and Primary instinct. As a director, he broke through with The rapidity before landing the 1996 disaster flick, which Steven Spielberg and James Cameron passed on to direct. A major draw for De Bont was teaming up with VFX house Industrial Light & Magic. With their help, he hoped to bring the film's stormy spectacle to life with a mix of practical effects and CGI, similar to their ILM's work on velociraptors in jurassic park.
Related: Is Twister a True Story? How Accurate Is The Movie Compared To The Real Storm Chase
There is an icon Tornado scene that was an afterthought, however. Paxton, Hunt and Gertz close in on a pair of tornadoes when several cows caught in the swirling wind pass their truck mooing, causing Gertz to hang up after saying, "we have cows", in shock. De Bont relayed in a recent interview with Yahoo! New that the timing was not in the film's original script. He also didn't specify whether the cows were solely his idea or born out of a moment of collaboration. Check out his quote below:
"It's funny because it was an afterthought. I thought we needed to have some relief, give the audience time to breathe."
Since Tornado is such a tense race, De Bont's inclusion of a moment of levity was wise. But considering it's the sequence that's stuck in the public's mind the most since its release, it's funny that it wasn't always part of the plan. Replication efforts Twister's success in a CGI-only sequel would be a mistake according to De Bont. This Tornado worked as well as it did is a testament to ILM's work mixing practical and computer effects. It's all the more clear how important their work was, because behind the scenes would have been as much of a disaster as what can be seen on screen. During filming, conditions were reportedly so dangerous that original cinematographer Don Burgess and nearly two dozen camera operators quit. At another point, Paxton and Hunt were temporarily blinded after hours of intense lights were blasted into their eyes to create the contrast to the dark, stormy skies often seen behind them.
Still, the film remains enjoyable and popular, and seeing another Tornado down the line is probably almost inevitable. Although Hunt's version will never see the light of day, a reboot made by Top Gun: Maverick's Joseph Kosinski was opted in 2020 and is still in development. Although he guided the original to success and played a part in creating its most iconic scene, De Bont will not be involved.
Source: Yahoo! New