Rail News – Howard Street tunnel project receives final environmental approval. For railway professionals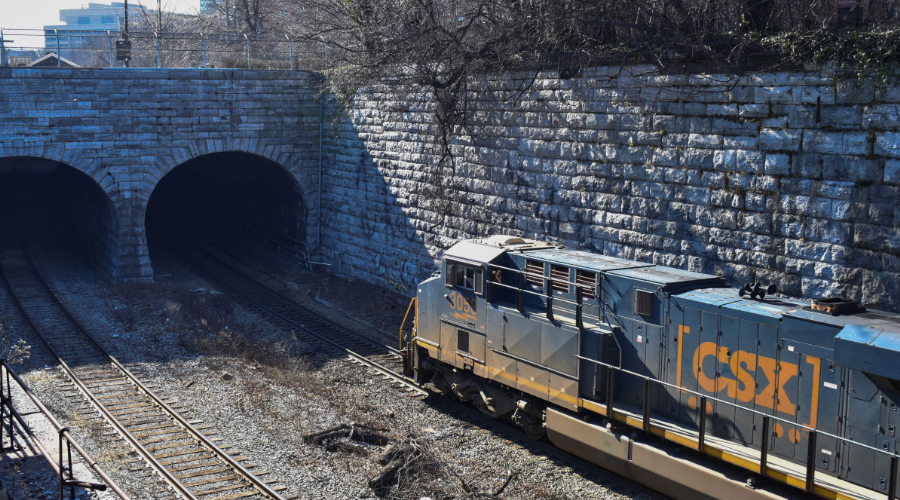 [ad_1]

Railway news
CSX Transport
06/24/2021
Railway News: CSX Transportation
The planned Howard Street tunnel expansion project in Baltimore received a Finding of No Significant Impact (FONSI) as part of the review of the project under the National Environmental Policy Act (NEPA), Maryland Gov. Larry Hogan announced yesterday.
The project will expand the 126-year-old Howard Street Tunnel to accommodate double-decker container trains to and from the Helen Delich Bentley Port of Baltimore, increasing efficiency and capacity.
The NEPA approval allows CSX, owner of the tunnel, to finalize the engineering and obtain the permits. Construction will take place in phases and is expected to begin later this year, state officials said in a press release.
The project will provide vertical clearance improvements to the Howard Street Tunnel and 22 other locations between Baltimore and Philadelphia. Three additional bridges in Baltimore require superstructure work: the North Avenue bridge will be modified and the Guilford Avenue and Harford Road bridges will be completely replaced.
Other locations in Maryland, Delaware, and Pennsylvania require track lowering work under structures.
For years, the reconstruction of the Howard Street tunnel has been estimated at $ 1 billion to $ 4 billion, with significant disruption to surrounding communities. Using advancements in construction technology, CSX and Maryland determined that it was possible to provide the necessary permission for much less money and minimal impact on the community, officials said.
The cost is now estimated at $ 466 million, including $ 202.5 million from Maryland, $ 125 million from a federal Infrastructure For Rebuilding America grant, $ 113 million from CSX, $ 22.5 million of Pennsylvania and $ 3 million in federal funding under the highway formula.
"This project will connect seamless dual-stack access from Maine to Florida and position the Port of Baltimore as the primary hub for freight transportation along the East Coast," said Greg Slater, secretary of the Department of Transportation of the United States. Maryland.
[ad_2]