Obituary for Sunday, June 27, 2021 | Obituary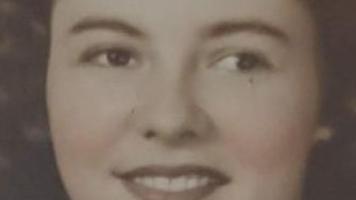 Sandra Faye Bowers, at the age of 75, of Maryville, passed away on Wednesday, June 23, 2021 at Blount Memorial Hospital. She was born August 6, 1945, daughter of the late Roy and Ruby Teffeteller. Sandra attended Lone Oak Baptist Church. Her greatest joy was spending time with her grandchildren. Sandra is survived by her loving husband of almost 61 years, Carl Bowers; sons and daughters-in-law, Scott and Melanie Bowers, Andy and Shayne Bowers, David Bowers; grandchildren, Drew Bowers, Estella Bowers, Max Bowers, Blake Bowers, Brooke Bowers; great-grandchildren, Hanlee Bowers, Cameron Bowers, Levi Bowers; brother and sister-in-law, Bill and Sandy Teffeteller; nephew, Kevin and Lisa Teffeteller. In lieu of flowers, memorial donations can be made to St. Jude Children's Research Hospital, 501 St. Jude Place, Memphis, TN 38105 or Lone Oak Baptist Church, 831 W Lamar Alexander Pkwy, Maryville, TN 37801. will meet at 3:00 p.m. for service and burial at the cemetery on Monday, June 28, 2021 at the Grandview Pavilion. Smith Funeral and Cremation Service, Maryville, 865-983-1000, www.SmithFuneralandCremation.com.
Ann H. Green, passed away on Sunday June 20, 2021, at the age of 93. His final days were spent at The Lantern at Morning Pointe in Knoxville. She was a member of the First United Methodist Church in Alcoa. She was predeceased by her 53-year-old husband, the Reverend Kenneth B. Green; mother, Margie Miller; father, Carl Hines; sister, Donna Nichols; brother, Mickey Vann. She is survived by her sons, Daniel (Patricia), Joel (Michelle); granddaughter, Erin Green (John Williams); grandson, Nic Green (mother, Marsha Spence, stepfather, Pete Garza); brother, Douglas (Buddy) Hines (Jackie); nephews, Edward Alexander (Judy), Jay Hines (Sharon); nieces, Kim Blizzard (Mike), Rosemary Quillen; special cousins, Lonnita Biggs, Linda Anderson. The family would like to thank the staff at Morning Pointe Assisted Living, Amedisys Hospice and Dr David England for their loving care. The funeral service will be private with Reverend Edward Alexander officiating and buried at Sherwood Memorial Gardens. In lieu of flowers, donations can be made to Alzheimer's Tennessee at 5801 Kingston Pike, Knoxville, TN 37919. www.mccammonammonsclick.com 865-982-6812
Anne Marie Blankenship Head, 65, of St. Marys, Georgia, died June 14, 2021. Funeral services July 2, 2021 at 11:30 am at Oakland Methodist Church, 234 Trigonia Road, Greenback. Stock exchange to follow with lunch.
Richard James Luketich, 81, of Maryville, died on Wednesday June 23, 2021. He was born January 12, 1940 in Chicago, IL. Richard graduated from St. Rita of Cascia High School, served in the United States Army, earned an associate's degree from Northwestern Business College, then worked for AT&T and retired. He was a 4th degree Knight of Columbus and a Catholic Veteran. Richard was a member of the Rockford Freeport, the IL Kennel Club, and the American Legion. He is predeceased by his parents Nicholas and Marcianna Radack Luketich. Richard is survived by his wife Bernadine Carlyle Luketich, his son James H. Luketich, his grandchildren PFC Timothy Luketich, Alyssa Luketich, Audrey Hooper, William J. Luketich and Cody Luketich, his sister Joan Sedlacek and his niece and goddaughter Rebecca Sedlacek Fick. There will be a memorial service to honor Richard's life on June 28 at Our Lady of Fatima Catholic Church, Alcoa, TN. Visits for friends and family will take place from 9 a.m. to 10 a.m., Mass will be held at 10 a.m. and interment in the columbarium will follow immediately. Lunch will follow at the Family Life Building. In lieu of flowers, donations can be made to Catholic Veterans c / o Our Lady of Fatima or St. Jude Children's Hospital. Rich loved his family, his church and his shelties.
MARVIN GLEE MCGILL de Maryville, 92, died on Tuesday, June 22, 2021 at Blount Memorial Hospital. Marvin was so loved by his family and friends. He has never met a stranger and had such a witty personality that you will never forget him. He was an inspiration to many. He loved his church and was a member of the United Methodist Church of Walland. He retired from ALCOA and was also a member of ALCOA's 25-year service club. Marvin was predeceased by his first wife, Donna Jean Boring McGill and his daughter, Deborah McGill Williams; parents, John Burton and Jane Mays McGill; five brothers, Fielding, Bill, Horace, Howard and Dan; two sisters, Eloise West and Marcelle Lillard. The survivors are the wife, Wilma Edington McGill; son and wife, Dickie and Shirley McGill of Louisville; son, Stan McGill of Maryville. Grandchildren, Josh Williams of Nashville and Michaella McGill of Knoxville. He is survived by several precious nieces and nephews. The family will have a private celebration of life at a later date. Donations can be made in memory at United Methodist Church, 314 E Millers Cove, Walland, TN 37886. www.mccammonammonsclick.com 865-982-6812
Joyce Johnston O'Connor, at the age of 90, from Maryville, passed away on June 24, 2021 at her home. She was a member of the Middlesettlements United Methodist Church. She graduated from Friendsville High School in 1949 and promoted her class. She was retired from the Alcoa South plant and was a member of the Alcoa 25 Years Club. In two weeks, Kenneth and Joyce would have celebrated their 67th wedding anniversary. She was predeceased by her parents, Oscar and Ina Mae Johnston; sister, Margaret Garrett; brothers, Donald Johnston, Kenneth Ray Johnston. She is survived by her husband, Kenneth O'Connor; daughter, Melinda and Mike Andes; granddaughter, Melissa and Jared Duckett; great-grandson, Liam Duckett; nephews, Johnny Johnston, Bradley Garrett, Mark, Mitch and Russ Boling, Hank Purkey; niece, Terry Simerly. The family will receive friends from 1:00 p.m. to 2:00 p.m. Sunday, June 27 at Middlesettlements Methodist Church and the funeral will follow at 2:00 p.m. with Reverend Magan Stubblefield and Reverend Rex Rogers officiating. Interment will follow immediately at Middlesettlements Cemetery. In lieu of flowers, memorials can be made at the Middlesettlements Cemetery Association,% Peggy Morgan, 2610 Gray Ridge Road, Maryville, TN 37801. Thanks to caregivers Robin Byrd and Helen Hughett as well as Amy, April and Hiroka of Blount Memorial Hospice and palliative care. www.mccammonammonsclick.com 865-982-6812
Bobbie webb, at the age of 86, of Friendsville, formerly of Dandridge, TN, passed away on Tuesday, June 22, 2021, at home. She was a former member of Grace Baptist Church in Dandridge, TN and current member of Pleasant Grove Baptist Church. Preceded in death by her husband, William Elmer Webb; son, William Franklin Webb; parents, Ross Sims, Sr. and Albertine Woods Sims; brothers, Ross Sims, Jr., Jack Edward Sims; stepdaughter, Sherry Webb. Survived by his sons, Mickey Webb, Joey Webb, Chuck Webb (Paula); daughters, Pam Ramsey (David), Carol Shore (John); grandchildren, Daniel, Jonathan, Coby Webb, Claude Patterson, Chad Ramsey, Brian McWilliams, Chris McWilliams, Amanda Davis, Jasmine Shore, Hannah Webb; several great-grandchildren and great-great-grandchildren; brother, Ronald and Donald Sims. The family will receive friends from 4:00 p.m. to 6:00 p.m. on Monday, June 28, 2021 at Smith Trinity Chapel with the funeral service to follow with Reverend Greg Long officiating. Family and friends will gather at 1:00 p.m. for interment on Tuesday, June 29, 2021 at Grace Baptist Church Cemetery, Dandridge, TN. Smith Funeral and Cremation Service, Maryville, 865-983-1000, www.SmithFuneralandCremation.com
Wilson, Derek Timothy, 42, from Maryville, TN, returned home to be with the Lord on Tuesday, June 22, 2021. He was a faithful member of Temple Baptist Church where he was a deacon. Derek trusted the Lord Jesus Christ as his Savior when he was 5 years old. As a young man, he sacrificed his life to serve the Lord and kept that commitment all his life. He worked at Blount Memorial Hospital as a nurse anesthetist and was the chief of CNA. Because of his dedication to Christ and his medical training, he was able to provide anesthesia services on medical mission trips to Guatemala and Mexico. Derek loved nothing more than spending time with his family. Having had cancer as a teenager, Derek was told he could never have children, but the Lord blessed him with four beautiful children. He loved to teach his children sports of all kinds, including football, baseball and golf. Other passions included guitar, hiking, and family trips to the Smoky Mountains. Derek was a true family man and will be sadly missed by all who had the opportunity to know him. Derek was predeceased by his grandmother, Donna Wilson; grandfather, Ralph Holloway. He is survived by his lovely wife of 19, Anna Wilson; the children, Kalli, Emily, Brayden and Brenner; parents, Tim and Karon Wilson; grandfather, George Wilson and grandmother, Frances Holloway; sister, Summer (Collin) Cantrell; nephew, Knox Cantrell; several aunts, uncles and additional family. The family will receive friends on Monday June 28 from 5 to 7 pm at the Curtis Hutson Chapel at Temple Baptist Church, 1700 W. Beaver Creek Dr. Powell, TN 37849 with the funeral at 7 pm. Pastor Clarence Sexton officiating. The funeral service will be held on Tuesday June 29 at Grandview 2304 Tuckaleechee Pike Cemetery, Maryville, TN 37803, meeting at the cemetery at 10:45 a.m. for a service at 11 a.m. with burial to follow. In lieu of flowers, please make memorial contributions to the family to help them on their journey, please contact Janine Stinnett at 865-602-5204 for details. Berry Lynnhurst Funeral Home 2300 W. Adair Dr. Knoxville, TN 37918 (865) 689-8888. Condolences can be offered at www.berrylynnhurst.com.
Charles Jeffery (Jeff) Winn, Sr., 74, returned home to be with his Lord and Savior Jesus Christ on June 21, 2021. Jeff was the son of James Beauchamp Winn, Sr. and Katheryn Cecil Rose. He graduated from the 1965 class of Morristown High School. Jeff was admired and cherished for his dedication to family, his patriotism, his strong work ethic and his unwavering faith. Jeff is survived by his sister, Carolyn Rose Winn and his brother, James Beauchamp Winn, Jr of Morristown; sons, Jeff Winn, Jr. of Morristown, Jim Winn of Maryland, Jonathan Winn of New Mexico and grandchildren, Jeffrey, Jonathan, Hannah, Autumn, Eliana, Talia, Josiah, JT, Bennett and Evelyn. Service of Life Celebration to be held at 6:30 p.m. at Grandview Baptist Church, Maryville, TN. Interment will be held on June 29 at 1 p.m. at the East Shadowlawn Memorial Gardens, Lawrenceville, GA. Condolences can be sent or viewed at www.wagesfuneralhome.com. Tom M. Wages Funeral Service LLC, "A Family Company," 120 Scenic Hwy Lawrenceville, GA, 770-963-2411, was responsible for the arrangements.