Monmouth 1st XI shot down for record 28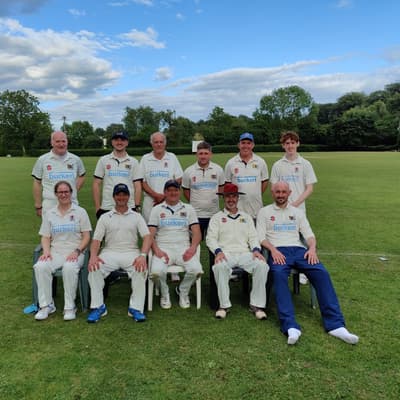 MONMOUTH CC 1st XI have found themselves on the wrong side of an unwanted club record – after being brought down for just 28 by Whitchurch Heath in their South East Wales League Division 2 clash.
Ben Lander's depleted side were humiliated by Heath's promotion to the Sports Ground, just a month after amassing a club record 386-5 against Creigiau.
Monmouth 1st XI's previous lowest competition total was 43 against Herefordshire Visitors Luctonians in June 1994.
On that occasion, Luctonians left armourer Adrian Hope swung the ball with skill and precision to return all 10 batters in a Marches League Division 1 game.
But Monmouth have been crippled by the departure of key first-team players, poor availability and injuries this season.
And the Bürkert Fluid Control Systems-sponsored side were outclassed in Saturday's nine-wicket loss.
No home player hit double figures from Monmouth's lowest total of 28, complied with 25.2 overs after winning the coin toss and striking first in wet conditions.
Monmouth fly-half Barry Jones scored seven runs, while plucky Rick Parkes showed patience and defiance in his four steps on 55 deliveries.
Chris Vanos was the Cardiff club's leading bowler, taking 5-4 from six overs, and he was the only wicket to fall, claimed by Kit Skailes, when the visitors responded.
Ben McCluskey caught bowling Skailes (1-6) in a game sponsored by Gwalia Consulting Limited.
Monmouth will be aiming to bounce back this Saturday when they travel to Brecon in form (12.30pm start).
Meanwhile, a half-century inaugural club from the all-rounder Duncan Delreeve inspired Monmouth 2nds to a thrilling three-point win at Monkswood-Panteg Seconds in a rain-soaked Division 9 clash.
He hammered nine fours and two sixes in his game-winning 61 that propelled Monmouth to a competitive 140-9 from 35 overs.
Last man Tony Brennan had a crucial unbeaten 23 and shared an unbroken 28-run partnership at the 10th wicket with Paul Dunsford (6 not knocked out).
Matthew Malson led Monkswood's response, batting 44 paces as the hosts stayed in the contest and eventually needed nine points to win from last.
Substitute captain Nick Robinson (1-21) kept his composure and conceded just five points since the final to guide Monmouth to a memorable victory – and a league double – as Monkswood closed 137-4.
Tony Brennan (1-20 from seven overs), Tom Willgoss (1-21), Rob Pendleton (1-28 from seven), Delreeve (0-17 from seven) and Sam Brennan (0-20 from seven) all played superbly for Monmouth.
Wicketkeeper Simon Kidd, Dunsford, Sam Brennan and Willgoss made good catches, while opener Jim Barker also contributed, making 17, and there were assured performances on the pitch from newcomer Sam Howell and fourth team skipper Helen McGloin.
The match was sponsored by The King's Head Hotel – JD Wetherspoon, and the 2nds host Blaengarw at the Sports Ground this Saturday (12.30pm tee time).
Monmouth 3rds ran into a solid 1st XI from Pencoed in Division 12 and were knocked out for 38, as they slipped to an eight-wicket defeat on a damp afternoon.
Wicketkeeper Dannie Stone had the best score with 10, while Alun Jeremiah enjoyed a 17 vigil on the crease before a fiery Monmouth, led by rookie Pablo Nayager, was knocked out in the 25th.
In response, Nadia Mackey claimed a Pencoed first wicket, athletically caught on the slip by debutant Tony Nayager.
Tony Nayager then capped his debut appearance with his first wicket for the club thanks to a clever square-legged hold from Jeremiah.
The match was sponsored by Bürkert Fluid Control Systems. Monmouth 3rds host Hopkinstown Seconds at the Chippenham grounds this Saturday, while Monmouth 4ths are set to travel to Chepstow 3rds in Division 13 East (12.30pm start).
Monmouth CC hold their weekly training sessions for all seniors on Thursdays at the Sports Ground from 6pm.
To get involved, contact President Joe Atkinson via email [email protected] call him on 07502347780.