LUCILLE BROWN | KMMO – Marshall, Mo.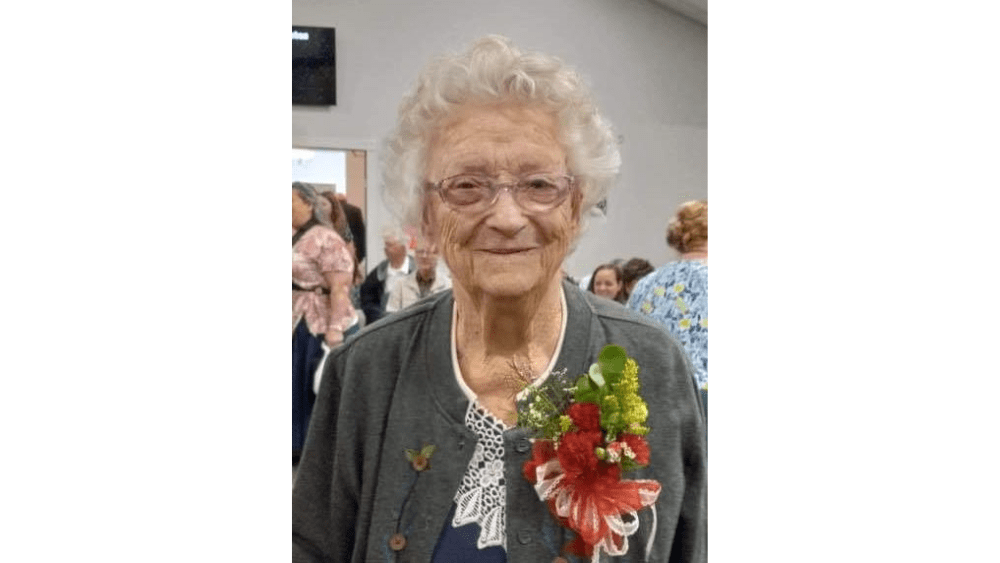 Lucille Brown, 97, of Marshall, MO, died Saturday August 27, 2022 at Big Bend Retreat in Slater, MO.
Funeral services will be held at 11:00 a.m. on Saturday, September 3, 2022, at Calvary Baptist Church in Marshall, with Pastor Rodney Haggett officiating. Visiting hours will be from 10:00 a.m. to 11:00 a.m. Saturday at the church. Interment will be at Sunset Gardens Cemetery in Marshall. Memorials are suggested at Calvary Baptist Church or Big Bend Retreat in the care of Campbell-Lewis Funeral Home. Friends can sign the register online at www.cambell-lewis.com
Born September 14, 1924 in Saline County, Missouri, she was the daughter of the late Jesse Irvin Cundiff and the late Dovie Lucetia Crabtree Cundiff. She graduated from Sweet Springs High School and lived in Marshall most of her life. On July 18, 1942, in Marshall, she married Curtis Lee Brown who predeceased her on August 29, 2010. Lucille was a member of Calvary Baptist Church. Lucille's life was devoted to her family as a homemaker, but for the first few years she worked as a telephone operator and later helped Curtis deliver the Kansas City Star. She enjoyed knitting, crocheting and gardening.
Survivors include a son, Raymond Curtis Brown (Sandra) of Sanford, NC; one daughter, Connie Lee Davidson (Orvil) of Pattonsburg, MO; four grandchildren, Jeffrey Curtis Brown (Rachel), Carolyn Sain (Roger), Alan Davidson (Melanie) and Vickie Diebold; eight great-grandchildren, Lauren Brown, Paige Brown, Jordan Brown, Drew Davidson, Cara Davidson, Sonny Lett, Ryan Davidson and Jessica Davidson; three great-great-grandchildren, Will Mathis, Hunter Lett and Brock Barnett; and many nieces and nephews.
In addition to her parents and her husband, Lucille was predeceased by a grandson, Larry Davidson; a great-granddaughter, Latesha Mouser; nine siblings, James Lovell Cundiff, Hazel Bell Bartels, Helen Jane Cundiff, Ernest Carl Cundiff, Leonard Clay Cundiff, Esther Dean DeFore, Irvin Eugene Cundiff and John Irvin Cundiff and Mary Lou Cundiff both infants; and five nephews.