Life is a Picnic – Erie Reader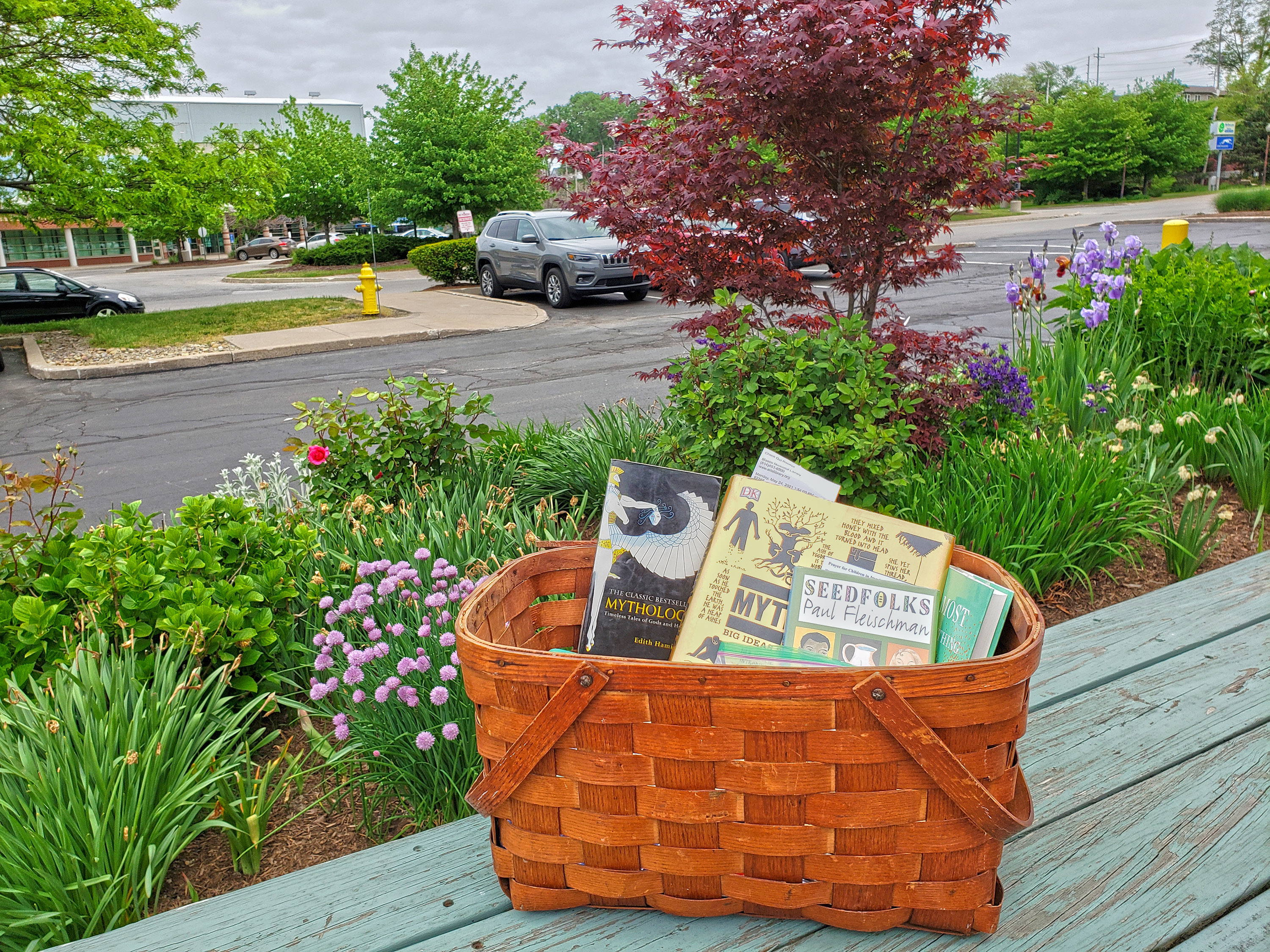 Liz Allen
Pack a picnic, read a book. The Erie County Library will add more picnic tables at Blasco, the main library, and will also install picnic tables at Lincoln Community Center, Edinburgh and Iroquois branches this summer. The idea is to encourage customers to read and enjoy the outdoors at the same time.
Lt summer, when the pandemic pinned us to the ground, the porch became our perch.
We ate most of the meals there on an antique porcelain table, rescued from the dusty basement. The table sat next to a wobbly wooden bench, where I grew pot herbs to cut for our dinner entrees, usually eaten after a fierce game of Scrabble.
To decorate, I draped fairy lights under the eaves and arranged wildflowers in mason jars.
Lying on the porch swing, I read poetry and gardening books that I had stored in an old crate.
In the evening, we greeted the neighbors who were walking around at sunset. Sometimes we would watch a Pittsburgh Pirates game on the radio.
We lived as idyllic a life as it gets during the COVID days, but in May, fully vaccinated, I was ready to leave the porch for a few micro vacations, with two conditions: the destination had to be inexpensive and close to the water.
Instead of a suitcase, I packed my grandmother's wooden picnic basket and set off to explore the parks and public access points with views of Lake Erie or Presque Isle Bay.
When I heard that the Erie County Library would be adding picnic tables at Blasco and at the Lincoln Community Center, Edinboro and Iroquois branches this summer, I thought I should book it and prepare it at the same time.
In three days, I visited five libraries, ten parks or green spaces, and 10 restaurants.
Here is my report on my palooza picnic:
Day one
I bought a chocolate chip cookie from Teresa's Deli – Lakeshore (it was too early for one of her "famous giant submarines"), then went to the library branch at Lincoln Community Center at 1255 Manchester Road, where I read a young adult novel, The voting booth, by Brandy Colbert. From there I headed north over Manchester to Walnut Creek Marina.
I love visiting this rocky beach, where Lake Erie looks as fierce as the ocean. Didn't see any picnic tables, but set up a folding chair to watch the crashing waves and observe the purple martin houses. I plan to return to the Walnut Creek Marina Sunset Garden, erected in partnership with the Pennsylvania Fish and Boat Commission, another evening.
Next: The Bayfront Bookshelf gift shop from library friends in Blasco, then Blasco himself so I can check out three books on mythology to learn more about Minerva, the Roman god immortalized in a restored statue on the first floor of the library.
Outside on the east side of the library, I stopped at a picnic table to admire the lush garden, especially the glorious irises. This place I've decided is where I'm going to re-read Seeds, by Paul Fleischman, a slim portrait of brave people from downtown Cleveland who have come together to nurture a community garden.
Day two
The Millcreek branch library will not have a picnic table due to its location in a Millcreek Mall. But recently, by chance, I discovered a place to commune with nature not far from the mall's acres of paved parking lots. After checking Home Port Erie. Voices of silent images, by Robert J. MacDonald and David Frew, of the Local Interest Section of the Millcreek Library, I visited Bridger Park on Walnut Creek in Millcreek Township, on Zimmerly and West Roads.
This park was laid out near a noisy sewage treatment facility, but a two-minute walk on its trails takes you away from the snowshoe and immerses you in a peaceful setting filled with wildflowers, birds and butterflies. There are several metal tables with built-in seating, but I would probably picnic on one of the freestanding benches, near the gurgling stream, to watch in wonder how nature can coexist so close to the mall in our area.
Next stop was the Edinboro branch library, where I was hoping to find Bridget Jones Diary, by Helen Fielding, but it wasn't in the stacks. Randalee Gross, branch manager, said she picked up this book from a hotel in Hawaii when she forgot to bring something to read. It's the perfect holiday book, she said, because the newspaper format gives you "bite-sized" reading pieces to enjoy, about three pages at a time.
Rather than books, I checked out spinach and summer squash seeds from the Edinboro branch. After planting the seeds and harvesting the products, the borrower is supposed to return the dried seeds to replenish the inventory, stored in packages in an old catalog of cards. Maybe later this summer I'll eat my vegetables from the vegetable patch at Edinboro Lake, which has a lovely picnic lodge. It's also a great place to bring in locally grown food from the Edinboro Market or to treat your sweet tooth with a treat from Edinboro Chocolaterie, both on Erie Street in downtown Edinboro, or the Dairy Supreme on Plum Street, which has an incredible variety of ice cream, frozen yogurt, shakes, sundaes and sandwiches.
Back in Erie, I picked up my husband at the Y, then drove with him to Joseph Walczak Sr. Park, which stretches between East Grandview Boulevard and Alan Drive. The sky was cloudy, but the view of the lake, miles away, was still breathtaking. Some young people from the east even told me that we could see Canada on a clear day. Regardless, with a playground and plenty of ball fields, there is plenty to do in this park, and the sheltered picnic area allows you to eat outside, rain or shine.
Day three
I crammed a lot in this last day, starting with the lakefront boat launch in Lawrence Park, which offers spectacular views of the lake from its benches and a picnic table, and ending, several hours later, at the south pier in the city of Erie. .
Getting to the Iroquois Branch Library, 4212 Iroquois Ave., can be a hassle now due to construction on East Lake Road, but the short detour through Lawrence Park is a welcome detour. You'll see why Lawrence Park is listed on the National Register of Historic Places, and discover local eateries worth checking out, including the old-fashioned Dairy Queen across from the library.
Before making my way through the township by the detour, I stopped at Gary's Superette, 4703 East Lake Road, where owner Joel Faulhaber said his store had plenty of "take out" items, including baubles. Hot pepperoni with garlic and parmesan cheese, perfect for an impromptu picnic.
I may have also stopped for take out at My Way Bar and Grill, 2218 East Lake Road, which specializes in Indian and Nepalese dishes, but it was too early for the early bird menu, available at 1pm.
Instead, I had a mad dash throughout the afternoon and evening to complete my checklist.
Chautauqua Park, at the foot of Chautauqua Boulevard, has a pretty picnic shelter and a charcoal barbecue. Here I discovered the cascading waters of McDannell Run tumbling down into the lake. James N. Thompson Land Lighthouse Park, at the end of Lighthouse Street, offers a covered shelter, grill, playground and lighthouse access on Saturdays and Sundays (for a fee) and free on the first Tuesday of the month .
The Erie-Western Pennsylvania Port Authority has covered metal picnic tables at the South Pier; there is also a portable toilet and a bicycle rack. The harbor also has a covered picnic table available near the dock between Dungeon Shipbuilding and Repair and DaVita Erie Dialysis on Bayfront Parkway. It is a great place to get a close look at the working harbor of Erie.
Nate Levy-Jaycee Park, along East Second and East Third between Dutch and German Streets, offers only a small glimpse of the waterfront, between treeline, but what you get in return is it is the chance to play chess or ping pong on the game tables. There is also a playground and tennis courts.
At Bayview Park, you can pose for photos at the new Erie sign, pump up the new metal swings, have a picnic in the covered pavilion, or walk east on the cliffs to another picnic table.
Between visits to the park, I stopped by Trawka Market, 712 Payne Ave., where owner Tom Walsh recommended one of his specialty sausages or house salads for a picnic. I didn't have time to cook sausage so I bought a jar of Nathan's Sweet Horseradish Pickles for my New York native husband. At Franco's Café at the Renaissance Center, owner Larry Franco said his chicken salad on croissant, salads and paninis are big take-out. Thelma Blanks, who co-owns Café 710 at 7 West 10th St. with her daughter Mabel Howard, says any of her homemade pastries would be a big hit at a picnic, including cookies, bread. with bananas swirled with chocolate and peanut butter, or his new homemade cheesecakes.
I was so busy visiting the parks that I didn't really eat much. But I have three summer months to take a "break" and enjoy peaceful picnics.
Liz Allen will pay $ 3 for a "mystery brown bag" of books the next time she visits the Bayfront Library operated by the Friends of the Library. You can reach her at [email protected]
Picnic at the library
This summer, likely in June, the Erie County Library will be installing colorful metal picnic tables at the Blasco, Edinboro, Iroquois and Lincoln Library sites.
"They will be perfect for library patrons and anyone in the area to enjoy while reading a good book, taking advantage of free Wi-Fi in all of our libraries, or just lounging in good weather", said Sheryl Thomas, Interim Library. director.
"Making better use of our outdoor green spaces is a priority, especially to support the county's blue zones initiative to promote healthy lifestyles," she said. "The pandemic has also underscored the need to take advantage of more outdoor space, even as restrictions ease."
As for which favorite book she would recommend, Thomas said it was difficult to choose, but suggested Elizabeth Marie Pope's The Perilous Gard. "It's a Newberry Honor Book and a tale of Tam Lin's Scottish ballad. Wonderfully atmospheric with a likeable heroine, a healthy dose of enchantment and a hint of the macabre, its setting in a rainy castle and underground passages make it up. the perfect mix for a sunny day outside. " – Liz Allen