Doctor Who's Biggest Budget May Revive Old RTD Story Ideas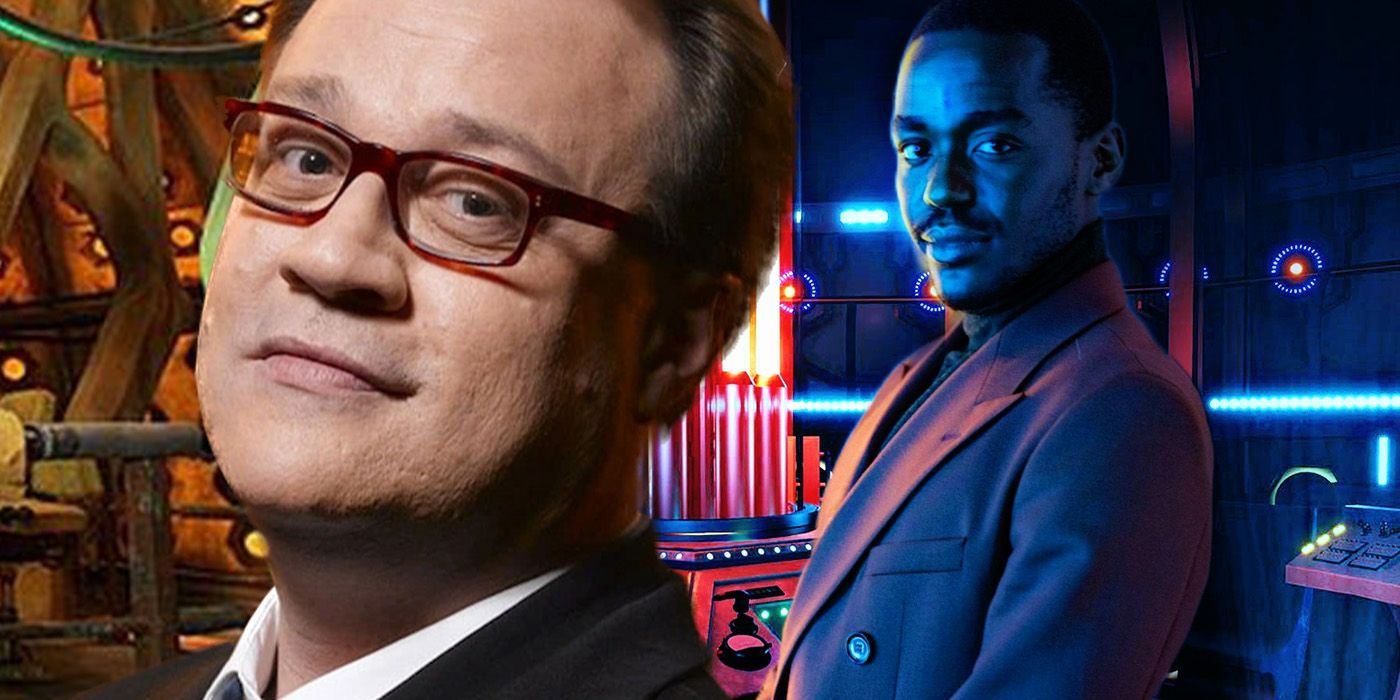 Several old Russell T. Davies ideas for Doctor Who episodes can now be revisited with a larger budget. Davies was previously the showrunner of Doctor Who from the series' 2005 revival until the end of David Tennant's era as the Tenth Doctor in the 2010 New Year's Eve special, "The End of Time." At the time, the BBC had a tight budget for the series, which meant that many ideas for larger-scale episodes were scrapped. Now though, Davies' return to the show, with Sex education star Ncuti Gatwa as the Fourteenth Doctor, means those old episode ideas can be revamped.
In September 2021, it was announced that production company Bad Wolf, aptly named after the 2005 story arc Doctor Who season, would co-produce the series from Davies' return in 2023. A month later, the majority of Bad Wolf was acquired by Sony Pictures Television, meaning the production company received a much larger budget. This means that the following seasons of Doctor Who could have the production value of series' such as Its dark materials and I hate Suzie, both critically acclaimed series hail from Bad Wolf. In his 2010 book, The Writer's TaleDavies offers several ideas for Doctor Who impossible-to-create episodes in David Tennant's run as the Doctor, but perhaps a bigger budget could see those stories come to fruition.
Related: Every Doctor Who Star Rumored & Confirmed For Jodie Whittaker's Finale
The Nazi episode of Mark Gatiss
Since Doctor Who Picking up from 2005, Mark Gatiss has been a staple of the series, writing nine individual episodes and even appearing in five episodes in various roles, including Professor Lazarus in "The Lazarus Experiment" and the Captain in "Twice Upon a Time." In The Writer's TaleRussell T. Davies notes that Gatiss has "one of the wittiest and craziest imaginations in this whole fucking country", so it wouldn't be surprising to see Gatiss return to write more episodes during Davies' new series. A previously unused idea written by Gatiss that would have originally taken place during Doctor Who season 4 could be brought back to the fore.
Simply titled "Nazis," the episode would have been confined to the walls of the Natural History Museum in a World War II setting. In addition to dealing with the monsters on the loose inside the museum, the Doctor also would have had to deal with the threat of an invading Nazi strike force. This episode, which would have taken Gatiss more than a year to perfect, would certainly have been an intense race for Tennant's doctor and his then-girlfriend Donna Noble. Even so, Davies decided not to pursue this project, not because of budget restrictions, but because he didn't want to produce a WWII-centric episode so soon after Christopher's Ninth Doctor episodes. Eccleston, "The Empty Child" and "The Doctor Dances." By the time Davies made his return to Doctor WhoIt's been a while since wartime Britain has been seen on the show, which means the Doctor of Gatwa has the opportunity to take on the Nazis in London.
"House of the Century"
Like Gatiss, writer Tom MacRae, best known for his work on Everybody's talking about Jamie, is a regular fixture in Doctor Who writer's room, penning the scripts for the Season 2 episodes "Rise of the Cybermen" and "The Age of Steel", and the Season 6 episode, "The Girl Who Waited". In addition to making his debut with the Cybermen in Doctor Who modern era, MacRae also wrote a screenplay titled "Century House", an episode which would have taken place later during Doctor Who season 4, which was eventually replaced by the thrilling episode "Midnight". Much like "Midnight," "Century House" was to see the Doctor isolated from his companion, who would watch the events of his adventure unfold during an episode of the fictional reality TV show, Just haunted.
It's rare these days to Doctor Who to feature doctor-centric episodes, showing the action develop without the intervention of a companion, so this might be a welcome change for Davies' new era of Doctor Who to bring back a concept such as "Century House". It was also planned to be a stripped-down episode, with a simple storyline following the Doctor's hunt for the ghost of the mysterious "Red Widow", while drawing inspiration from the 1950s and 1960s for the production design. In recent seasons of Doctor Whoscenarios have often changed the world (or the universe in the case of Flow), so it would be great to see a more grounded plot with Gatwa's Doctor, something Russell T. Davies was excellent at pulling off during his previous stint on the show.
Related: Doctor Who's Original Post-Tennant Plan Makes Smith's Doctor Even Better
Star Wars inspired episode
This concept was the first episode dropped due to budget restrictions, which was to be premiered for the 2009 Doctor Who specials that formed David Tennant's final episodes as the Doctor. Russell T. Davies described this episode in The Writer's Tale as "something alien, wild and crafty, spaceships and lazers. Lots of POWs!" This all-out action was a rare occurrence in Davies' earlier series era, though it became more common in Tennant's finale. Doctor Who episodes including "Planet of the Dead" and "The Waters of Mars". Inspired by star warsthis episode would have seen the Doctor materialize in the middle of a huge space battle against the Chelonians (a species of human-sized turtle) and would have featured a badass fighter pilot as a unique companion similar to Lady Christina de Souza and Adelaide Brooke.
It can be seen from the description alone that this episode would have required a huge budget to produce, something the BBC simply did not have on hand at the time. The 2007 Christmas episode, "Journey of the Damned" took £128,000 to produce, which was considered £35,000 over budget at the time, so an episode on par with the star wars franchise that would have featured huge space battles and even higher stakes would have been next to impossible. Now, however, with Bad Wolf and Sony Pictures Television on board, bringing a much larger budget and better production value, an episode of this magnitude could be done perfectly after Davies returns.
"The Empty Hotel"
Another episode concept featured by Russell T. Davies in The Writer's Tale is that of "The Empty Hotel", a story that would have introduced an older companion for the first time in the post-revival Doctor Who time. Davies expressed interest in getting Helen Mirren or Judi Dench for the role, who was originally considered the first female doctor before Jodie Whittaker. It seems like not being able to catch either of those high-profile names was what ultimately sunk this episode idea. "The Empty Hotel" would have seen Grandma's companion waking up in a deserted hotel, only to find that all of London was also deserted, with the world frozen in time so that "strange, spindly, eight-legged creatures with human torsos" could have their own personal carnival.
"The Empty Hotel" was the most clearly defined concept that Davies posed in The Writer's Talewhich means it's entirely possible this creepy fairy tale story will come to fruition once Davies returns to Doctor Who. Whether Mirren or Dench are still interested in the role of a single companion is another question, though there are plenty of well-known actors who would be a perfect fit for the role. It is still unclear who will play the companion opposite Ncuti Gatwa's Fourteenth Doctor after the 60th anniversary special in 2023. Currently, Heart stroke Star Yasmin Finney is set to play a character named "Rose" in the special, but whether she will continue as a regular cast member remains to be seen. Even so, it would be great to see some of those old episode concepts revisited in Davies' second stint on Doctor Whoespecially now that a larger budget has fallen at their feet.
Next: What's Going On With The TARDIS In The New Doctor Who Trailer?